How to haggle in Hong Kong
Often referred to as 'an exercise in controlled chaos', Hong Kong is a diverse and densely populated city that seems to defy convention. The city centre is packed with people, day and night, while cars and trams tentatively navigate through the heaving crowds. An infinite number of neon signs flash in both English and Cantonese and huge TV screens hang from the walls of buildings, all adding up to an imposing sensory overload.
My first encounter with Hong Kong was 15 years ago on a five-day stopover to visit a dear friend while on my way to Sydney…and I think it's safe to say I fell in love with it almost immediately.
During the daytime I explored the city on my own, since my friend couldn't get the whole week off work, but I didn't mind because it gave me a chance to discover everything myself. One of the many experiences I'd been told to try was shopping along the notorious Nathan Road.
Resembling something like Oxford Street, only a hundred times bigger and more densely populated, Nathan Road is on the Kowloon side of the harbour and only a 10-minute walk from the ferry port. This is where you'll be confronted by a tsunami of sellers pushing fake watches and cheap tailored suits.
I walked for about an hour in the hot summer sunshine, beginning at the busiest end closest to the harbour and then back down again, absorbing every detail, determining what the sellers looked like and how easy it was to catch their eye. These shifty looking characters were mostly Chinese, Indian or Filipino and could be found loitering around busy road crossings and that made them fairly easy to spot.
"Pssst, hey, wanna buy a Rolex? Watches. We got all watches," you might hear someone whisper while you're waiting to cross the road, barely audible over the noise of the traffic and hordes of people.
I'd promised myself a new watch if I could negotiate a good price and I felt ready to take them on. I spotted one seller, but couldn't quite make eye contact with him through the endless expanse of pedestrians. Seconds later I saw another and this time I nodded knowingly at him and he immediately made his way through the crowds over to where I was.
"I'm looking for a watch," I told him. He glanced up and down the street as if to check that he wasn't under surveillance, although I was convinced this was part of the act and not an attempt to avoid detection as he was making out, then he motioned for me to follow him.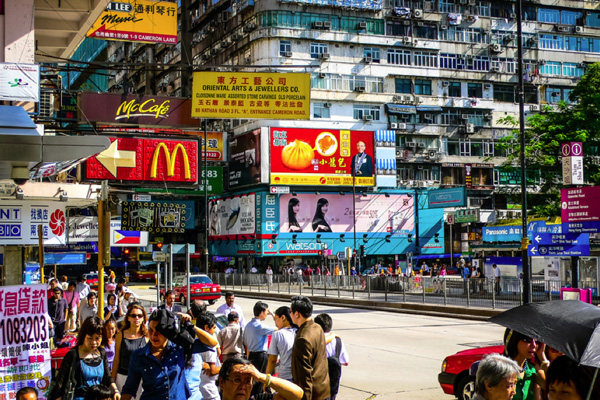 At this point I thought we might be making our way to a slightly quieter spot just around the corner, but he led me off the main street and into a labyrinth of shabby-looking market stalls and ramshackle iron huts. Huge clouds of steam erupted from giant woks and a thousand different smells filled the air. Countless boxes crammed with fruit and vegetables were piled high and locals everywhere were haggling over prices. We walked up one alley way and down another, fighting our way through the endless crowds. At every turn through this sprawling shantytown I wondered if I could find my way back if I lost the man I was following.
From time to time he looked over his shoulder to make sure I wasn't too far behind and then, just when I had lost any last remaining sense of direction, he stops in a dark alley, in front of a dilapidated corrugated iron hut. Holding the door open he gestures for me to enter. It seems like an awful lot of trouble to go to just to sell me a fake watch. I slowly step inside and look around this squalid, single room dwelling. There are no windows, the only source of illumination is a single, swaying light bulb at the end of a long, hanging wire in the centre of the room. Just next to that is a slow rotating ceiling fan, providing the only circulation in this hot, summer heat. Directly under these is a table with two chairs. The door behind me is closed and bolted shut as I turn around to see two more representatives of Kowloon's underworld who have seemingly appeared from nowhere. Now, I begin to worry a little.
A chair is pulled out for me and I'm encouraged to sit down. The man that led me here is now in the shadows, standing against a far wall, along with a much larger looking gentleman. Sitting at the table across from me is someone new. Dressed in a crumpled, cream-coloured linen suit, a discoloured, white shirt and a dark red tie hanging loosely. He is a European-looking man of medium height and build, unshaven and in his 50s, with a scar above his right eye. He produces a thick catalogue and drops it onto the table in front of me. He encourages me to look through and speaks with a thick accent that I can't quite place.
The catalogue is full of pictures of watches, everything from Casio to Cartier. I already have an idea of what I'm looking for, but I take the time to look over each page. Eventually I find what I'm after, an Omega Seamaster, of which the retail price for a real one is around £3,000. None of the watches in the catalogue have prices written down, but I'm guessing a good quality fake might cost in the region of £100. I flip through the pages to double check there's nothing else that takes my fancy and then I turn the catalogue around on the table and point to the Seamaster. The man sitting opposite me signals to his colleague who pulls out his mobile phone and makes a call lasting no more than five seconds.
"It is on its way," he tells me.
"OK, um, thanks," I reply, shifting anxiously in my seat.