And the hits just keep on coming
As much as I wanted the apartment at 827 4th street, I think the one I've ended up with is much nicer, certainly more expensive, which will no doubt push my budget to breaking point. This one was an equal mix of desperation and good fortune. Apparently, this is the quietest time of year to look for a place, the busiest time being the summer for some reason, and as a result there just wasn't much around. Therefore I had to look beyond Santa Monica and expand my search into neighbouring Venice and West Hollywood.
Originally, I had come to see another apartment in the same building, but someone was already submitting an application for that one, so the building manager showed me another, that would be finished in just over a week. Since an Australian couple had very recently been in exactly the same predicament and that had all worked out OK, the building manager here was slightly more sympathetic to my situation. Those two factors: Nice Apartment plus Willing Landlord, multiplied by Growing Motel Bill equals Done Deal.
The previous tenant lived here for 25 years, so I've been told, and the whole interior has been replaced with brand new wooden flooring, kitchen units, cooker, fridge shower and toilet. Honestly, I think that was the deal clincher. Sadly though, apartments here are generally rented empty of accessories. Unlike London where there's an equal market for furnished and unfurnished, you might at least get a bed, a wardrobe, a table and a TV if you're really lucky. A trip to Ikea was in order.
Yes, I could probably have found a bed on Craig's List, but frankly I'm too old and too fussy these days to tolerate a used mattress that who knows how many people have probably been murdered on. Ikea hasn't really taken off here in the same way it is in the UK, so the nearest outlet – one of only four in all of Los Angeles and Orange counties – is in the City of Carson, about 40 minutes in good traffic down highway 405.
The shopping list was simple, just the basic necessities, like a bed, mattress, desk, chair and sofa. Naturally, the basic items also happen to be among the biggest. However, navigating my way through the Laplandish labyrinth I start to realise, I have nothing, absolutely nothing in this apartment: no cups, no cutlery, no pots, pans or plates, no pillows or pillow cases, no cushions, no clothes hangers, no kettle, no salt and pepper shakers, no sheets, no towels, no toaster…nothing. Nada. Zip. Zero. Zilch.
This was going to be a challenge. So, picture me, if you will, pushing around an Ikea shopping cart stacked up like a builder's skip. This thing is about five feet high and it feels just like that game on Crackerjack – every time something fell off the trolley, I honestly thought Stu Francis was suddenly going to appear and hand me a cabbage – three cabbages and I'm out!
Thankfully, the big stuff could be delivered, but that turned out to be another nightmare, altogether. Saturday was the official move in date and I was expecting delivery between 2pm and 6pm. So I stayed in, sat on the floor, and watched TV – thankfully the Time Warner cable box had been set up. It turns out this building is situated in a Dead Zone between two transmitters and cellphone reception is pretty poor. At 5:30pm I begin to wonder where this damned delivery is, so I call the Ikea helpline. To cut a long, excruciating story short, 20 minutes of being on hold was followed by a further 15 minutes of being on hold upon which I learn it has been marked down as a Failed Delivery, which was followed by a total loss of temper, naturally. This in turn was followed by a frenzied trip down the freeway to Ikea itself, which was followed Customer Services being on the receiving end of a Godzilla-like rampage.
A new time is set for the following day, Sunday, between 9am and 1pm, plus a partial refund for the first Fucking Disaster Failed Delivery. It's about half past nine in the evening now, so I drive home, stop off at Whole Foods to pick up a pizza and nice bottle of wine, exactly what's needed before settling down on the cold, hard wooden floor to watch a movie and then sleep, since the sofa and the bed were part of that consignment. But the final smack in the face this particular day was that the wine was corked, honked of vinegar and would have to be returned the next day.
The agony of backache awoke me on Sunday morning, but this was no time to let crippling pain get in the way. At 9 o'clock precisely I called Ikea and the delivery company, since I now had their number, and told the person on the other end that it was imperative the driver ring the buzzer for the apartment, since he had not done so the previous day. And just to make sure the message was absolutely, positively understood, I phoned back every 30 minutes until the delivery actually arrived.
However, I chose not to inform the delivery company that the elevator in the building had broken down that very morning and every stick of furniture was going to have to be carried up three flights of stairs. The hits just kept on coming.
Finally, just to be doubly sure the delivery man knew where I was, in case somehow the instruction "ring buzzer" got confused with the words "drive away" I sat outside the building, on a bench, in the beautiful early morning Southern Californian sunshine and read my book: Fletch by Gregory McDonald.
He arrives at about a quarter to one, naturally, and it appears he's on his own.
"The lift's broken," I say.
"Stairs..?" He asks.
I nod.
"Top floor..?"
I nod.
He insists that he can manage and despite the fact that he looks like a Mexican Hercules-equivalent, there's simply no way he could've carried the bed parts and the mattress up there on his own. A few hours later everything is upstairs and more or less successfully assembled. I've given him a cold beer and we look proudly at the fruits of our labor. He packs up his tool bag and shakes my hand. I know exactly what's coming…but my back still aches and that's because I had to sleep on a cold, wooden floor and that's because you didn't ring the buzzer yesterday before you chalked up a Failed Delivery. So, no. No tip for you.
He leaves, I get myself a beer and sit down on the sofa for the very first time. The SuperBowl has already started and I shut my eyes and breathe a sigh of relief, I have everything I need. At which point the picture on the TV suddenly freezes and then goes black. Turns out Time Warner is having transmission problems with the Fox feed.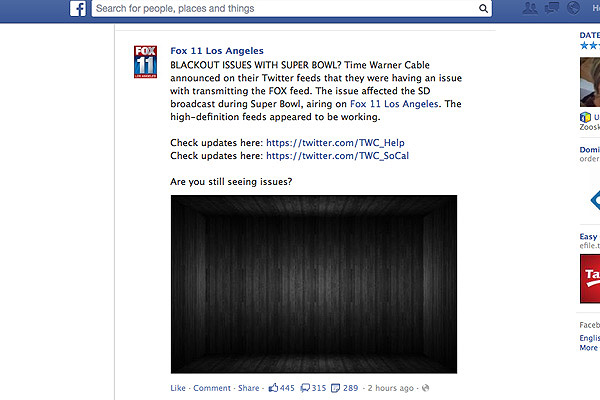 Follow Londoner in LA on Twitter at @londonerinla