Lords of Dog Town
Everybody loves a hot dog. Those long, savory sausages served in soft bread buns have brought pleasure to the palates of millions of Americans for age after age and one of the best things about the hot dog is that they haven't become standardized, they're still unique to each region and vary across the whole country. No excuse is needed to bite down on a dog and with baseball season in full swing and National Hot Dog Day just around the corner, now is the perfect time to indulge.
Dog Haus Biergarten
Key ingredients for the perfect hot dog experience include sunshine, fresh air and cold beer and you'll find all of these at this eatery. There are two other outlets dotted around this leafy suburb of North-East Los Angeles, but this one has by far the best beer garden-style outdoor eating area. Their signature dog is called the Downtown Dog and features an all-beef skinless sausage, wrapped in smoked bacon and topped with caramelized onions, sautéed bell peppers, mayo, mustard and ketchup served in buttered and griddled Hawaiian bread roll.
Dog Haus Biergarten is located at 93 East Green Street in Pasadena (626) 683-0808.
It's open Monday-Sunday: 11 am-10 pm.
Fab Hot Dogs
Following the popularity of the original eatery in Reseda, two more outlets have opened up in Westwood and Valencia. Fab has quite a following and offers a wide range of dogs, plus if you eat your way through the entire menu within 12 months you get to put your picture on the 'I ate it all' Wall of Fame. The top dogs for that week are displayed on a list to provide any gourmet guidance you might need, but one sausage that outsells every other is the LA Street Dog – a bacon-wrapped, charred all-beef dog with grilled peppers and onions, deli mustard, mayo, ketchup and jalapeños.
Fab Hot Dogs is located at 19417 Victory Blvd, Reseda (818) 344-4336.
It's open Monday-Saturday: 10:45 am-7:45 pm, Sunday: 10:45 am-7 pm.
Fritzi Dog
Tucked away toward the southwest corner of the Original Farmers Market in the fashionable end of Fairfax is this diminutive diner. There are some seriously great choices here and they make a big deal about how everything is made from vegetable-fed and antibiotic free meat, there's even a gluten-free option. The signature Pittsburgh features a juicy pork sausage blended with French spices and a hint of curry on a soft, thick bread roll with bacon, sweet mustard, Tillamook cheddar and onions.
Fritzi Dog is located at 6333 West 3rd Street, Fairfax (310) 555-5500.
It's open Monday-Friday: 9 am-9 pm, Saturday: 9 am-8 pm, Sunday: 10 am-7 pm.
The Infield
An unmistakable shrine to baseball, you even sit on genuine seats from ballparks around the country. Each one has a little plaque that tells you from which stadium it came from. In addition, behind the counter there's a steadily growing display of baseballs autographed by every celebrity that visits, which makes a nice change from signed portraits. The Chicago Dog is considered the trademark offering here, it's an all-beef sausage with a natural casing and it's served with neon relish, onions, diced tomatoes, yellow mustard, sport peppers, celery salt and a pickle spear on a poppy seed bun.
The Infield is located at 14333 Ventura Blvd. in Sherman Oaks, (818) 501-1850.
It's open Monday-Saturday: 11 am-8 pm, Sunday: 11 am-6 pm.
Jeff's Gourmet Sausage Factory
Whenever it's open, this place is absolutely packed, a testament to its popularity and great food. The menu offers a wide variety of sausage-related snacks, not just hot dogs, but they take great pride in that everything is made on site in their own kosher frankfurter factory. When asked what their trademark hot dog was, the reply came instantly, the Veal Bratwurst Dog: a traditional veal sausage on a lightly toasted onion roll topped with deli mustard, mayonnaise and sautéed onions. One thing they don't tell you though, is quite how big this bad boy is – it's a meal unto itself.
Jeff's Gourmet Sausage Factory is located at 8930 W. Pico Blvd in Beverlywood, (310) 858-8590.
It's open Sunday-Thursday: 11 am-11 pm, Friday 9:30 am-2 pm.
Larry's Chili Dog
Tucked away in the backwaters of Burbank stands this unassuming yellow-colored kitchen where almost everything on the menu has a chili theme. Popular with many from the nearby movie studios it offers a number of different options; some even have health warnings, like the Crouching Tiger Hidden Dragon and the Mini Stroke, both of which carry a disclaimer that states they are 'not for people with a heart condition or high cholesterol'. Owner John Avetyan offers almost every type of hot dog in stock, but his trademark dish is the classic 'chili cheese dog' – a juicy beef sausage in a soft white bun, covered with thick chili that stains the bread and topped with grated cheese.
Larry's Chili Dog is located at 3122 W. Burbank Blvd. in Burbank, (818) 842-0244.
It's open Monday-Friday: 8 am-6 pm, Saturday: 8 am-5 pm.
Meea's Hot Dogs
This one's quite easy to miss as you cruise down Colorado, but it's well worth a few wrong turns to find it. Simply order inside and then take a seat in the lavishly landscaped outdoor eating area. The Southland Dog is considered their signature snack, a bacon-wrapped dog with grilled onions, bell peppers, ketchup, mayo, mustard, and roasted jalapeño, all served on a homemade, super soft, slightly sweet roll topped with poppy seeds.
Meea's Hot Dogs is located at 1734 Colorado Blvd. in Eagle Rock, (323) 285-4850.
It's open Monday-Saturday: 11 am-9 pm, Sunday: 11 am-7 pm.
Pink's
Aside from making an appearance at various county fairs up and down Southern California through the summer, there's only one outlet in Los Angeles. Believed to be the oldest hot dog vendor in LA, there is always a queue, no matter what time of day you visit. Pinks is also a favorite among celebrities and the walls inside are covered with signed photographs of film and TV stars from Stevie Nicks to Steve Martin and from Jay Leno to Jason Alexander. A wide choice is available, but they consider their Chili Cheese Dog to be most revered; an all-beef sausage in a soft white bun lined with sliced cheese and draped in sludgy chili sauce and topped with finely chopped onion.
Pink's is located at 709 N La Brea Avenue, Hollywood, (323) 931-7594.
It's open Sunday-Thursday: 9:30 am-2 am, Friday-Saturday: 9:30 am-3 am.
Skooby's
There's some stiff competition around this part of town, with Carneys, Dog E. Style and Musso & Frank just up the road, but Skooby's offers its own unique take on the hot dog experience, with a selection of scrummy dogs plus their own thick, hand-cut fries and freshly made lemonade. Their Bacon Cheese Dog is a seven-inch natural-case beef frank, topped with Farmer John bacon and home-made ailoi sauce made from garlic and roasted red peppers and served in a warm Kings Hawaiian bread roll, which has a slightly sweet flavor that contrasts against the saltiness of the bacon.
Skooby's is located at 6654 Hollywood Blvd. in Hollywood, (323) 468-3647.
It's open Monday-Wednesday: 9 am-9 pm, Thursday-Sunday: 9 am-12 am
Vicious Dogs
Here, art gallery meets gourmet hot dog vendor. The walls inside always feature work by different local artists and every piece is for sale. The theme is usually associated with post-modern pop-culture in some way, but it makes for a slightly more cerebral culinary experience. If this is your first visit, the staff will almost certainly suggest you try their signature dog, the Sweet & Spicy Style. Featuring a ⅓ lb Kielbasa link with in-house made sweet and spicy chili glaze, topped with grilled onions and peppers and served on a poppy seed bun.
Vicious Dogs is located at 5231 Lankershim Blvd. in North Hollywood, (818) 985-3647.
It's open Monday-Saturday: 11 am-8 pm, Sunday: noon-6 pm.
Here's a handy guide to finding the right place to grab a dog: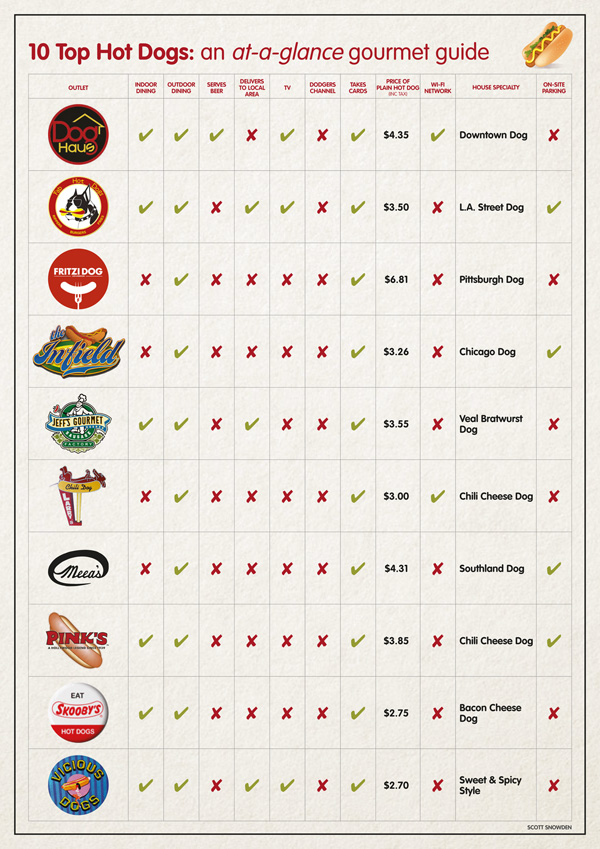 This article also appeared in LAist.
All photographs and illustrations by Scott Snowden