Fans of the Big Mac rejoice
To celebrate its new Grand Mac and Mac Jr sizes, for one day only, McDonald's is giving away 10,000 bottles of its Big Mac Special Sauce.
The last time such a giveaway of monumental Mac proportions was in February 2015 in Australia. It was possible to purchase the delicious dressing in in 0.8 oz bottles at locations across the continent. Naturally, a few got onto eBay and changes hands for significantly more than they cost to begin with.
A year later, McDonald's put one on eBay in the UK with a starting price of £5 ($6.32) and after 232 bids, the price reached a whopping £65,900 ($83,257). Apparently, the winner received not only the coveted condiment, but a fancy black box, together with refrigerated delivery.
Of course, recipes exist all over the place online, to make the oh-so-scrummy sauce, but if you've ever tried, you know it's just not the same. It's possible to come close, but like cold fusion, you can never quite recreate it.
One of the new giveaway bottles has popped up on eBay already and at the time of writing it was up to $300 with 75 bids and the reserve hadn't been met. It appears to be bottle number 1,794 out of 10,000 and comes from Baltimore, Maryland.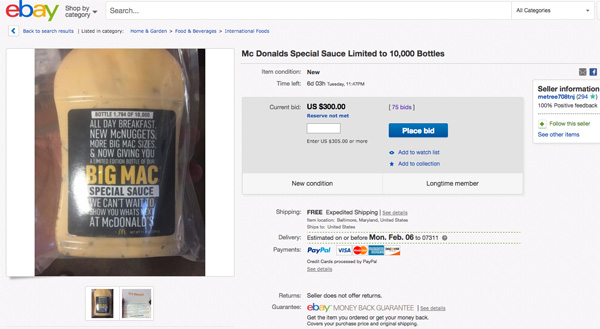 There's a picture of the 11.4 oz bottle and what appears to be a certificate of authenticity.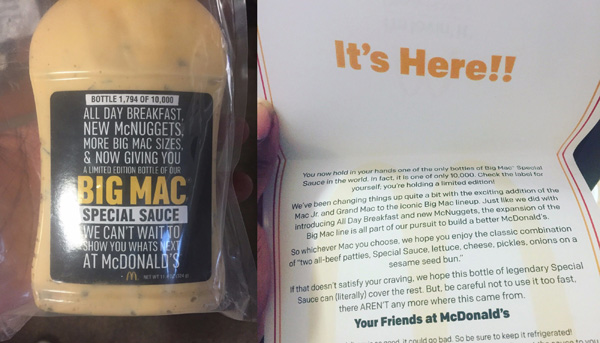 This fast food festivity is really all about two new sizes of Big Mac, one a little smaller and one a little bigger than the regular burger. However, these themselves are only available for a limited time. The Mac Jr is a single-layer Big Mac that's easier to eat on the go…and the Grand Mac is for people who think an ordinary Big Mac just isn't quite big enough. La Grandiose Mac, if you buy your McDonald's in Paris.
The giveaway will be on a first-come, first-served basis and to get your bottled burger balm, head to a participating location around the country and say, "There's a Big Mac for that."
Customers who can't make it into a participating restaurant also will have the chance to get their hands on a bottle with giveaways throughout the day on McDonald's Facebook, Instagram and Twitter pages.
The participating restaurants in the New York City area are…
220 W 42nd Street, NY 10036
2379 Adam Clayton Powell, NY 10030
541 6th Ave & 14 Street, NY 10011
And that's more than any other single city in the US. Los Angeles for instance has one. There's a complete list here. Or you can download the Big Mac Special Sauce Finder iMessage App. There's 187 outlets in 44 states, so that equates to an average of just 53 bottles per restaurant. Sure, some will have more than others, but probably not that much. Turns out that McDonalds made no mention whatsoever about what time this giveaway actually starts, but following a visit to the outlet at 541 6th Ave & 14 Street at 8am this morning, we learned that it all kicks off at 12noon. There was me thinking I should've gone at 2am. No doubt all those extra "oh, well, while I'm here" McMuffins will add up across America, to say nothing of the feeding frenzy expected at lunchtime.