I ran 400m of the London Marathon
Every year, the London Marathon attracts more participants. A record number of 253,930 people entered the ballot for the 2017 race with a total of 40,382 actually competing, beating last year's record by over a thousand. The course has remained largely unchanged in its 36 year history; starting in Greenwich Park, following the Thames westward along the south side, crossing the river at Tower Bridge, then heading east, doing a circuit of the Docklands before beginning the homeward run west all the way to St James Park.
To get from Tower Bridge to the Docklands means going along the Highway – an all-important traffic artery connecting the old financial district with the new – and in order to get around the Limehouse basin, it needs to head down the historically famous Narrow Street…which means it runs right past my apartment.
This is great if you've got nothing better to do than watch the race both on TV and as it unfolds live, in front of the bedroom and hallway window. However, a little-known detail is that this requires forward planning, because all the roads are blocked and barricades line the route. Unfortunately, every necessity for me is on the other side of the Highway, including every corner shop, the local Tesco Metro and the vital Docklands Light Railway link. Consequently, if you're cooking a Sunday lunch say, you'd better make sure you haven't forgotten anything, otherwise it's a long walk to St Katharine Docks.
This particular year, my wife-to-be's Sicilian parents were coming to the apartment to watch the race and I was supposed to be cooking Sunday lunch. I'd also had a huge night out with one of my best friends the night before and stayed with him at his girlfriend's apartment many miles away in Brockley, South East London. Needless to say, I was suffering the worst hangover ever experienced by a human being. And I was late.
It was mid-morning in mid April, there was some rain and a cold wind, not quite ideal conditions for the 26.2 mile race. To get back to Atlantic Wharf, where my apartment is and where everyone was waiting, I was first kindly given a ride to Lewisham and then jumped on the DLR. My head throbbed so hard it was probably registering on a seismic survey chart somewhere, but worse than feeling like Michael Ironside's proof of power in Scanners, I felt really guilty for not having made more of an effort to get back in time. As my automated little DLR train wobbled into Limehouse I called Lisa, my beloved wife-to-be, and asked if there was anything I could pick up on the way, in a feeble effort to placate her.
"Um, I guess we're a bit low on toilet paper. You could get some if you like. Just don't be too long, OK?" She replied.
"Yup. Sure. Of course. Toilet paper? OK, no problem. Consider it done. Uh-huh, nearly there. Just a few minutes now," I lied.
As I hastily stumbled down the steps from the platform, I could hear the clapping and shouts of support from the crowd just 20 or so metres to my left as the race was in full flow by now. I hurried around the corner and burst through the doors of the local, Indian-staffed corner store of essential supplies. The only packs on the shelf were of 12, so I grabbed one, threw my money at the nice man behind the counter and ran outside.
There was no way whatsoever I would be able to cross the Highway, which would've been the most direct way to get to the sanctuary of my apartment. The barricades appeared to be firmly linked together and probably stretched seamlessly all the way to The Mall. My brain was seriously struggling with logical thought and I did my best to fight off a fast approaching sense of panic with deductive reasoning.
Just before the Limehouse Link road tunnel, the race takes a right hand turn into Narrow Street, so I started to wander that way. People are going to need to cross the street at some stage or another, I thought. I just need to work out how they do it. This part of the course didn't have barricades, so if I was going to get home any time today, the attempt would be made here. I spotted one of London's finest and asked the nice constable how I could cross. "I live in that building right there," I blurted, pointing at it.
He sighed, looked me up and down and probably asked himself how on Earth he got lumbered with this soaking wet, still-drunk idiot standing in front of him, holding a huge 12-pack of Charmin toilet rolls with extra ply for added comfort.
"You didn't hear this from me…" He began. "But the only way to get across is to wait for a gap, join the race, not get in anyone's way and work your way over to the other side."
By the time this disturbing news had travelled from my ears to my brain, he'd already walked off, gently melting into the surging crowd, before disappearing completely.
I stood and watched as hundreds of people ran past, all supremely focused on their own race. A few minutes passed as I plucked up courage. Then a reasonable gap became visible, so I stepped off the curb…and started running.
At first I tried to keep pace, then it occurred to me that I'd have to be ready to speed up and slow down to weave around everyone. All the while I'm looking over my right shoulder in an attempt to move slightly closer to the other side of the street and trying not to trip up at the same time. There just didn't seem to be a gap. By now people were holding out bottles of water for me to take and even dollops of Vaseline. Energy bars were being thrust in front of me and everyone clapped and cheered as I ran past. Still clutching my tower of toilet paper.
I wondered how long this would go on for. Would I run out of street? Would I get so exhausted I'd have to stop…in front of everyone?
Then I saw someone who clearly wasn't a competitor in front of me, pointing a microphone at someone who clearly was a competitor, as they ran alongside.
"Oh crap," I thought. "Please don't ask me what charity I'm running in aid of…"
There was no choice. I glanced over my shoulder and started to head for the other side. I tried so very hard not to cut in front of anyone, but I think I did anyway.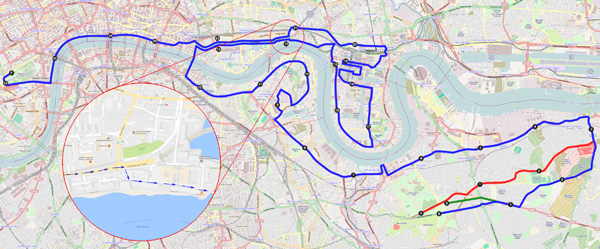 A few agonizing minutes later, I'd reached the pavement on the other side of Narrow Street. Pushing my way through a few lines of spectators and supporters, I hoped no one would see me or say anything and I started the walk back to the entrance of my building.
Naturally, all of this had added even more time to my journey home, but at the very least I had an amusing anecdote to entertain my future parents-in-law. But perhaps, more importantly, we could all visit the bathroom that day, safe in the knowledge there was plenty of paper for everyone.