Alien War at the Trocadero in London
Imagine, if you will, two friends, both about 20 years old with an abundance of testosterone. They're in their first year of their university degree and enjoying life to the full. Added to which, they've just received the first payment of their student loans. Sadly however, neither of them possesses any real knowledge or experience in forward financial planning and have seen fit to embark on a weekend bender in our nation's capital. They have a few drinks and saunter through Covent Garden. Christmas isn't too far away, so a lively atmosphere fills the busy streets. Crowds gather to watch street performers, the smell of roasted chestnuts fills the air and the bright lights of Piccadilly Circus are joined by the seasonal illuminations lining Regents Street. They stop off at a few more bars and make their way through Leicester Square until they arrive at the Trocadero.
A brand new attraction has recently opened and it's receiving a lot of attention. As a huge fan of the Alien films this was an absolute must, so inside we go. There's a line, but thankfully only about 45 minutes queuing time. Upon entering the basement level of the Trocadero, the environment transforms into an industrial decor, with metal floor panels, steel-plating, angular corridors and pipes running overhead. While we wait, we laugh and joke like the twats we are about how realistic it's going to be and brag about punching one of these things in the nose and dragging it outside by its tail, since it's only a guy in a suit, right? We enter in groups of 10 and are greeted by two Colonial Marines.
"Welcome to the Weyland-Yutani Bioweapons R&D Station," one says. "We are proud to give you, VIP guests, a guided tour of this facility, which is the primary location for all of Weyland-Yutani's top secret product development.
"We are very proud of our 100% safety record, but we ask that you stay close together throughout your visit. Now if you'll excuse me for just a moment, I must check that the specimens are prepared for inspection. Thank you for your patience." he says and exits the room.
My friend and I exchange glances and wonder what's next. Less than 20 seconds passes and suddenly an alarm sounds. Warning lights in the ceiling begin flashing and an automated voice repeats the phrase "containment failure". The two Marines quickly exchange words and one disappears off through the same door. The remaining Marine pulls out a 9mm, ejects his magazine, checks it, reloads and cocks the weapon. Then he starts shouting off like a drill instructor.
"LISTEN UP! WE HAVE A VERY SERIOUS PROBLEM! WE HAVE A CONTAINMENT BREACH! THAT MEANS THERE ARE NOW ALIENS LOOSE IN THE COMPLEX! IT IS MY RESPONSIBILITY TO GET AS MANY OF YOU TO SAFETY AS I CAN! SO YOU WILL DO EXACTLY WHAT I SAY! WE HAVE TO MAKE OUR WAY TO THE ESCAPE SHUTTLE! THIS FACILITY HAS MOTION SENSORS FITTED THROUGHOUT! IF AN ALIEN LIFEFORM IS DETECTED CLOSE TO OUR POSITION, A PROXIMITY ALARM WILL SOUND! THIS IS ABOUT NUMBERS, PURE AND SIMPLE! NOT ALL OF YOU WILL SURVIVE! DO NOT GET IN MY LINE OF FIRE! I WILL NOT HESITATE TO SHOOT IF YOU STEP IN MY LINE OF FIRE! I AM THE ONLY HOPE YOU HAVE! DO YOU UNDERSTAND!"
I roll my eyes and smile at my friend. I wonder if this guy has his sights set on an Academy Award for Overacting.
"NOW, LET'S MOVE OUT! FOLLOW ME! AND STAY BEHIND ME!"
We shuffle out through the door into an almost totally dark corridor. The only illumination comes from the dim, red emergency lighting and the rotating orange warning lights overhead. "STAY IN SINGLE FILE! STAY AGAINST THE WALLS!" The Marine shouts. My friend and I are at the back of the group, but I can see him advancing carefully forward, checking every corner and I'm sauntering along with my hands in my pockets like I'm in an English country garden. We turn a corner and he leads the group down a new corridor. "IT'S BLOCKED! WE HAVE TO GO AROUND!" He shouts. Everyone turns around and he quickly takes us back and down another corridor. "EVERYONE STAY HERE FOR A MINUTE – I HAVE TO SEE IF THE WAY AHEAD IS CLEAR!" What has basically happened is that my friend and I have ended up being at the front now as we enter what appears to be another blocked corridor, so we're right at the end.
Suddenly, a different alarm sounds and a strobe light starts and then…out of the darkness an alien appears. It's huge claws reach out for me as its drooling mouth slowly opens. It's less than three feet away from me.
I scream. I hear my friend screaming next to me. I scream like a five-year-old girl. I'm overwhelmed with terror and my instant reaction is to do whatever is necessary to get out of this narrow corridor. We're pulling people out of our way and leaving them behind as alien fodder in a desperate attempt to save our own skins. Women, children, it didn't matter. Had a pram been there, I'd probably have thrown the baby at this demonic creature. Any shred of composure, any ounce of decency had been utterly disintegrated in those truly traumatic seconds.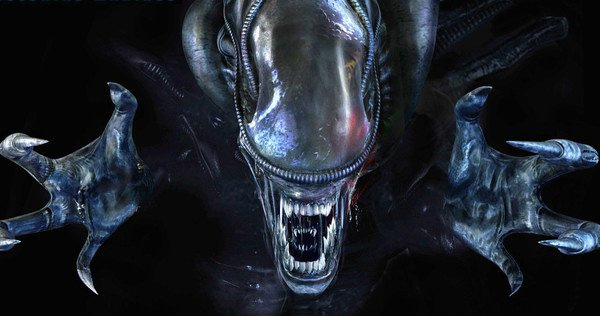 The next thing we know the Marine reappears, shouting, "GET DOWN! GET DOWN!" as he empties an entire clip at the alien and we can hear an inhuman, screeching shrill. "COME ON! THIS WAY!" He shouts and ushers everyone down the corridor. My friend and I are still shaking. "STAY IN SINGLE FILE! STAY AGAINST THE WALLS!" I nervously nod and at this point I'll do absolutely anything he asks of me. He's in charge, right. Definitely. Without a doubt. Of course, yes. Anything you say. Oh God, please don't let me die.
We stumble into a slightly bigger area with what looks like an elevator shaft. "WE CAN TAKE THIS TO REACH THE ESCAPE SHUTTLE!" He pushes the button as the group anxiously shuffles about. Everyone has their backs to each other, even complete strangers, since we were all in this nightmare together. After a few seconds the elevator door opens and we all bundle inside. The Marine hits one of the buttons on the panel…and nothing happens. He leans over and hits it again. Twice. Still nothing happens. There's a click and a low hum and the doors begin to close. We are all transfixed on the gradually reducing gap between the doors.
A strobe light suddenly flashes and then there's an alien in the doorway.
Its giant claws push the doors open and it darts inside. Paralyzed with fear and pressed up against the walls of the elevator, we have no where to go. It all happens so quickly, the Marine barely has time to react. The alien grabs one poor man and yanks him outside as the doors close and we leave his blood-curdling scream behind.
"IT'S ALRIGHT, WE ONLY LOST ONE. THAT'S AN ACCEPTABLE LOSS," he says.
Hyperventilating with fear, I barely manage to lift my hand, point and blurt out, "But…but…" But that's all I can manage.
The elevator jolts and feels like it's starting to move and everyone tries to catch their breath. There's barely time though as the doors open and the Marine herds everybody out. He ushers the utterly traumatized members of the paying public out and down another corridor.
"THIS IS IT," he says. "WE'VE MADE IT. QUICKLY, EVERYONE GET ABOARD," he adds pulling open a heavy-looking door.
Inside, the small room is filled with what look like military-style aircraft seats with straps and buckles hanging off them, plus stacks of cargo canisters, containers and plastic drums sitting near the entrance to the cockpit. Everyone rushes in and I'm among the first in, so we head to the back. I sit down and fumble with the straps, trying to get everything to click in properly. Our Marine is joined by a Pilot and we're ordered to strap ourselves in as they pull the hatch closed.
"EVERYONE STRAP IN, WE'RE DOING AN EMERGENCY EVAC," we're told over the loud sound of the shuttle's engines firing up. I can just make out the Pilot shout that we're ready to lift off when the containers suddenly fly everywhere and an alien slowly stands up from where its been hiding.
Every single person simultaneously screams and frantically tries to unbuckle their straps. The alien is towards the front of the shuttle, so those of us at the back have a few more precious seconds. It attacks the pilot first and we can all hear him screaming, together with that unmistakable alien screech. The Marine has opened an emergency hatch on the other side that we didn't know was there and everyone desperately tries to get out, some climbing over seats to get to the exit. "RUN! RUN!" He shouts.
We get out and we can hear him screaming behind us along with the sound of gunfire. We're running down a short corridor and another Marine holds a door open for us and he shouts, "RUN! DON'T STOP! RUUUUUUUN!" And we do…past him and past the queue of people waiting patiently to get in.
Pages: 1 2